Mother Superior Nun humiliating a priest
In this blasphemy porn video the Sacrilegious Mother Superior found father Steven looking at dirty novels. To feel the purity of God the nun tied the father to a cross dressed in a loin cloth and nothing else. The father submit, thinking that he would be punished with a whip. Instead the Mother Superior proceeded to undress and punish the father with sexual degradation. In this denial scene the father suffers a long hard-on with the mother threatening no satisfaction. Stay tuned to xxxHorror.com for a more extreme part 2 coming soon!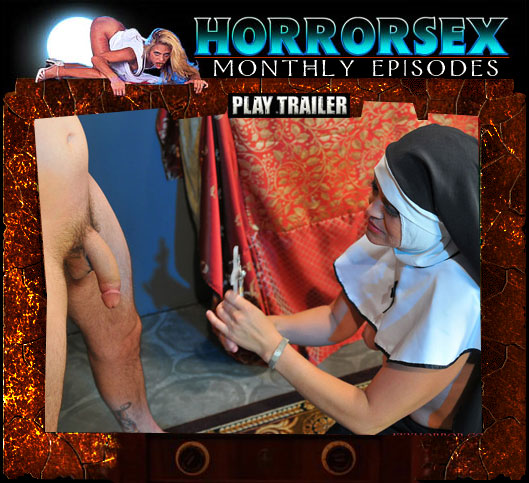 ---
Serena Silva and father Alito in the blowjob humiliation
Horny father Alito was walking around the graveyard of the remote monastery begging god for forgiveness. Lately he had a lot of sexual thoughts and could not sleep at all. Father Alito was recently assigned to this monastery and he had no idea about the evil residing in the nearby woods. Little did he know that there was a witch living in the forest. The witch liked to kidnap young fathers and make them her sexual slaves. She completely converts the priests to the evil side and has created a network of prostitution in the area…so father Alito was captured too. This is how he woke up in the horror sex dungeon, where witch Serena Silva started the sex slave torture immediately. She was giving him a humiliating handjob and deep throat blowjob, but she won't let him cum, instead she was sitting on his face getting her ass and pussy licked. Check out this horror porn scene to find out how the innocent father handles the female domination and blowjob humiliation by witch Serena!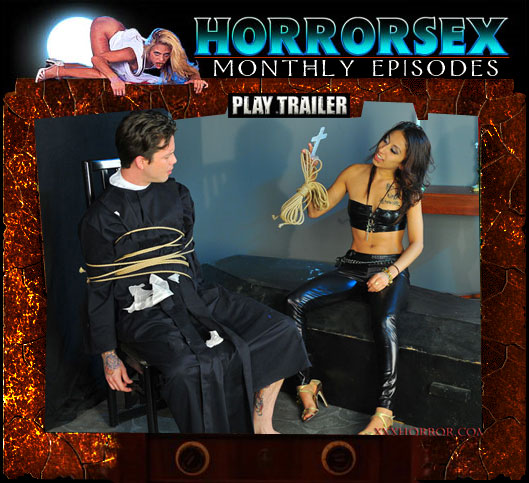 ---
Hot Latina Talia in The Sex Starved Nun
The dirty little nun Talia in training was masturbating with the cross given to her at her communion. The Virgin father Steve walked in and was disgusted by the blasphemous site. He tried to save her soul but she came at him with all her sexuality persuading the poor father into sin. The sacrilegious nun took advantage of the virgin. In this nun porn movie, in front of the eyes of the church the father unloads on the most sacred of objects. Stay tuned for the next hot nun sex and sacrilegious erotica that happened in the xxxhorror.com church!